Post by Tamrin on Sept 6, 2008 17:31:46 GMT 10
Asherah is a very ancient Goddess, in the ancient Ugaritic Texts she is called, "She Who Gives Birth to the Gods." Which is similar to what Roman Catholics say about the Virgin Mary in calling her, "The Mother of God". Asherah is also called "she who treads on the sea", which is exactly what Jesus Christ did, in the New Testament. In fact scholars have revealed that much of the Old Testament is about a religious war between the followers of the Goddess Asherah and the followers of the God Yahweh. In the end it was the followers of Yahweh who won, and it was they wrote the Bible as we know today.

Even in the New Testament there are Goddess overtones. We today only know about four Gospels, Matthew, Mark, Luke and John. Yet before Christianity became a state religion it seem there was about 150 different Gospels. Some of them were about the Goddess Sophia whom it seems searched for her brother/lover Jesus in much the same way as the Egyptian Goddess Isis searched for her murdered lover Osiris. Other Gospels gave a more prominent role to Mary Magdalene and claimed there were female disciples.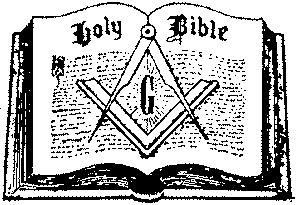 When archaeologists excavated Ancient Palestine and the area around it, the Canadian archaeologist John Holiday claims that, "biblical descriptions does not match what is found in the dirt". What came clear from archaeological evidence is that the Hebrew Bible was a very biased and heavily censored version of Jewish History.

The evidence unearthed shows that Goddess worship was commonplace in Israel right up to early Christian times. With large numbers of Goddess statues discovered in the homes of common people. Archaeologists have shown that the Hebrews worshipped the Goddesses Asherah and Astarte as much as the countries around Israel. So is this what this Freemason symbol is trying to tell us? That within the Bible is a hidden Goddess?