Post by Tamrin on Oct 18, 2008 18:29:55 GMT 10
General William Booth, Founder of The Salvation Army
The great Christian leader, humanitarian and philanthropist,
General William Booth
(1829-1912), founder of the Salvation Army, is not infrequently cited on lists of famous masons (
linked example
). This is ludicrous! Gen. Booth circulated
a letter to all Army officers
(n.d.) stating that:
No language of mine could be too strong in condemning an Officer's affiliation with any Society which shuts Him [Jesus] outside its Temples; and which in its religious ceremonies gives neither Him nor His Name any place ... The place where Jesus Christ is not allowed is no place for any Salvation Army officer.
The "Orders and Regulations for Officers of the Salvation Army," state: "
A person accepted for officership many not be associated with any secret society, neither may an officer join any such society.
"
He was fallible and, while we may readily disagree with his opinion of us, I suggest we do both Gen. Booth and ourselves a disservice by seeking to appropriate his good name. The misunderstanding may have arisen from reports of his second son (with whom he disagreed) and a grandson having been masons.
We read:
Ballington Booth (1859-1940) Reformer and founder of The Volunteers of America. b. July 28, 1859 at Brighouse, Yorkshire, England, second son of General William Booth, founder of the Salvation Army. Ballington was in charge of the Salvation Army in Australia from 1885-87 and in the United States from 1887 to 1896 when he withdrew from the army after disagreement with his father on the method of operation in America. He then organized a similar group, The Volunteers of America. His wife, Maud Charlesworth, aided him in founding the Volunteers and directed its prison work. She was one of the founders of the Parent-Teachers Association. Booth was a member of Montclair Lodge No. 144, N.J. about 1899, and later Charter Oak Lodge No. 249, New York City. He was past grand chaplain of the Grand Lodge of New York and member of York and Scottish rites as well as Kismet Temple, AAONMS. d. Oct. 5, 1940.

Charles B. Booth Reformer and welfare worker, head of The Volunteers of America since 1948. Son of Ballington Booth q.v., founder of the Volunteers, and grandson of General William Booth, founder of the Salvation Army. b. Dec. 26, 1887, Brooklyn, N.Y. Was general secretary of the Volunteer Prison League 1906-15 and national field secretary of the Big Brother and Big Sister Federation, 1925-29. Associated with The Volunteers of America since 1930 in Detroit, Pitts-burgh and Kansas City, Mo. Western area secretary 1938-39, national field secretary, 1939-45, central area commander, 1945-49, and general commander in chief since 1949. Raised in Mont-clair Lodge No. 144, Montclair, N.J. and demitted to Morton Lodge No. 63, Hempstead, N.Y.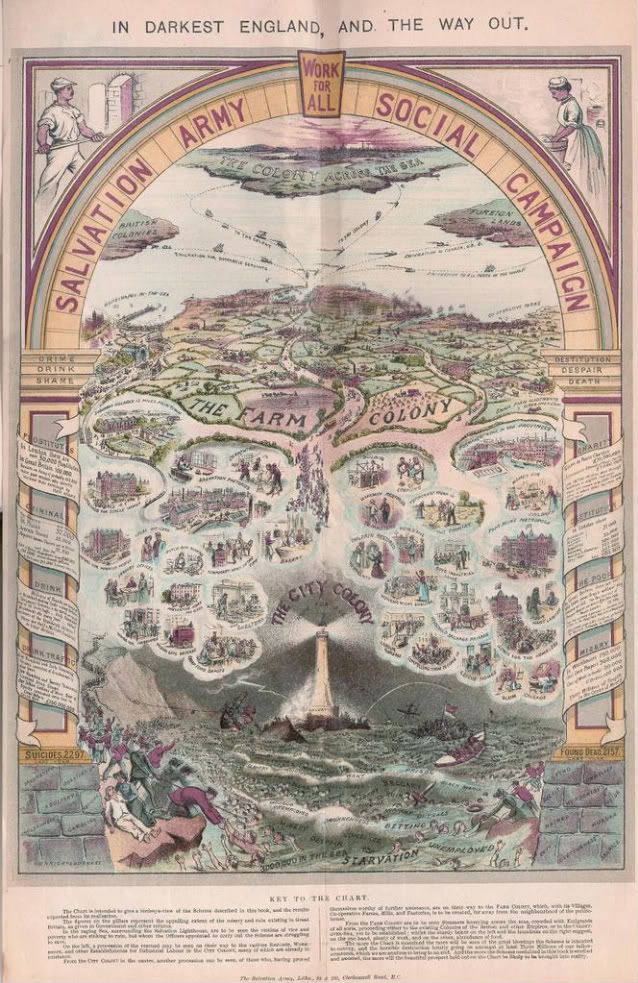 Foldout illustration and poster from General William Booth's
In Darkest England, and the Way Out
Not all images where artists employ "masonic" iconography (pillars, arch, keystone, etc.) are Masonic