Post by Tamrin on Jul 14, 2008 7:01:09 GMT 10
Desaguliers' Code
By Philip Carter
To avoid distraction, to comment on this thread please do so on the
appropriate thread
, under Topics.
Background
As
Leo Zanelli
tells us in,
A Pragmatic Masonic History
, Freemasonry is not a seamless continuation of any one tradition. Rather, it is a novel gathering together of two or more disparate strands by the Rev. Drs.
Desaguliers
,
Anderson
and others, in the early eighteenth century. The reorganisation of the first two degrees, with their emphasis on the Solomonic pillars (rather than the earlier Enochian pillars), additions to the
Ancient Penalties
(disposing of the remains), and the creation of the third, with its
Hiramic Legend
(rather than the earlier
Noachidic Legend
), were departures from the operative traditions of the founding lodges with their two degrees as revealed in the
Early Masonic Catechisms
, and did not correspond with what we now know of guild traditions around that time. George Maine tells us in,
Desaguliers and The March of Militant Masonry
(
emphasis
added):
For a time it looked as though even this newborn Masonry was to fail, but in 1719 Desaguliers was elected Grand Master, and he brought to Freemasonry the life it needed. He wrote most of its ritual. He brought to it his experimental philosophy, and gave to it a touch of Newtonian Christianity, a belief in Newton's God, now and for the first time, "The Great Artificer and Creator of the Universe."
Perhaps the most characteristic innovation was his emphasis on an inclusive religious philosophy. Indeed, I suggest many of the ritual changes around that time become explicable by bearing this philosophy in mind. We read (
Constitutions of 1738
):
In ancient Times the Christian Masons were charged to comply with the Christian usages of each country where they travell'd or work'd. But Masonry being found in all Nations even of diverse Religions, they are now generally charged to adhere to that religion in which all men agree (leaving each brother to his own particular Opinion) that is to be good men and true, men of Honour and Honest, by whatever Names, religions, or Persuasions [sic] they may be distinguished
This philosophy may be to do with many of the founders of the premier grand lodge—including the main mover and shaker, the
Rev. Dr. John Theophilus Desaguliers
, Fellow of the
Royal Society
, Third Grand Master and, it is said (Mackey, p.240), "
The Father of Modern Speculative Masonry
"—having been émigrés of Huguenot stock (Cryer,
passim
), for whom the
Wars of Religion
were still haunting memories, giving them cause to stress both caution and tolerance.
The theory of
Desaguliers' Code
asserts that their ritual changes incorporate a lesson, barely concealed by analogy, stressing the dangers of religious bigotry. While their lesson centers upon a biblical example and demonstrates sympathy for those persecuted, the founding Brethren were essentially Christian and were certainly not proselytizing on behalf of a long extinct religion, as several anti-masons, picking up on the analogy have presumed. Rather they were cautioning against the very sort of bigotry these anti-masons respresent. As a Brother once exclaimed, "
The 'Antis' got it right, for all the wrong reasons!
"
Sources:
Cryer, Neville Barker, 1995, 'Huguenot Freemasons,' in
A Masonic Panorama, Selected Papers of the Reverend Neville Barker Cryer
, Australian Masonic Research Council, Melbourne
Mackey, Albert Gallatin, 1917 (org. 1874),
Encyclopedia of Freemasonry and its Kindred Sciences Comprising the Whole Range of Arts, Sciences and Literature as Connected with the Institution
, McClure Publishing, Philadelphia
The Father of Modern Speculative Masonry
, by Philip Carter
A Pragmatic Masonic History
, by Leo Zanelli
Masonic Catechisms and Exposures
, by Alain Bernheim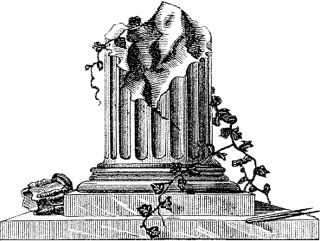 The Broken Pillar
Preamble
Since time immemorial, authorities have sought to dictate what people may or may not believe. Kings Hezekiah and Josiah butchered the worshippers of Asherah; the Jewish and Roman authorities crucified Jesus and persecuted his followers; Constantine sought to enforce 'orthodoxy'; the Church made more martyrs than it gave; druids, witches, Manicheans, Cathars, Albigensians, Waldensians, Knights Templar. Protestants, Huguenots, Covenanters, Puritans, Freemasons, etc., all stood in opposition to the dominant paradigm of their day and, in doing so, all suffered for their convictions. Salacious 'abominations,' such as devil worship, sodomy and child sacrifice, were tediously alleged; followers were murdered; and books were burnt. Some streams merged (and, ironically, some persecuted others) but, through it all, they preserved their precious 'heresies' (no compelling idea is ever lost without trace or remembrance).
In choosing a Solomonic context for their new, third degree, (Solomon being associated with both wisdom and allegations of apostasy), perhaps Desaguliers and others were attempting to address the religious strife of their day, with Solomon being seen to rise above petty dogmas and being an exemplar of religious toleration. Solomon, in his wisdom, at least condoned a religion later condemned by the Biblical writers. Perhaps our founders, in alluding to Solomon and to that extinct religion, were implying that we should not be less tolerant than he.

The
Statue of Silence
was the first important commission for an original work of art
received by the young sculptor, Augustus Saint-Gaudens (1848-1907).
The statue was moved from the New York City Lodge
to the Masonic Care Community of New York in 1922.
Secrecy
The author is in the position of having been obligated to secrecy but only in regard to those matters communicated as 'secrets,' namely the modes of recognition. Even so, there are further matters where discretion is implied, as with those points in the written rituals where words are omitted. In both cases, these matters are, however, neither 'secrets' nor 'confidences' as such, having long been matters of public record. Despite this, it remains a matter of honour for the author to neither confirm nor deny the accuracy of those exposures. The subject at hand is, however, inextricably tied up with such matters and, after having long wrestled with the dilemma, the author has decided to avoid gratuitous disclosures and, where unavoidable, to quote from the public record, rather than from his first-hand knowledge. In doing so, such references will be from either the published transactions of reputable lodges of research or, as a last resort, limited to a single exposure (to avoid selectivity), namely Hannah's
Darkness Visible
and, even then, by quoting him without correcting his errors.
For instance, according to Hannah (
op. cit.
, p.130), after having named the two great pillars at the porch or entrance to King Solomon's Temple, the Candidate is asked: '
What are their separate and joint significations?
' And replies: '
The former denotes in strength, the latter, to establish; and when conjoined, stability, for God said, "In strength will I establish this Mine house to stand firm for ever."
' Of which, Hannah says (
ibid.
, p.122), '
This text is not to be found in the Bible...
'
Walton Hannah, 1952,
Darkness Visible: A Revelation & Interpretation of Freemasonry
, Augustine Press, London